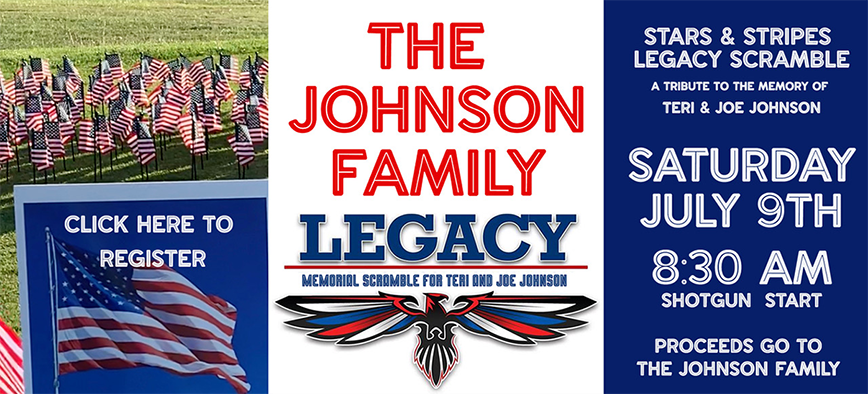 Hello Members,
THIS IS A TRULY SPECIAL EVENT! One that is near and dear to our hearts at Fenton Farms Golf Club. For the past several years, Fenton Farms Golf Club has had the privilege of hosting A HERO'S LEGACY – Sgt. Joe Johnson Memorial Golf Scramble.
We got to know and love Teri and Dennis Johnson over the years hosting this event. Unfortunately, in the fall of 2021 both Teri and Dennis came down with Covid and were hospitalized. It would take Dennis 5 months of being on a ventilator to eventually recover from the disease. Sadly, Teri Johnson did not recover and she passed away in late November.
Dennis continues to recover, slowly but surely. His focus is on his recovery, and the responsibility of organizing a golf outing is just too much to ask. Fenton Farms and the rest of the Johnson family would like to honor Teri and Joe Johnson by creating this new event, Stars & Stripes Legacy Scramble. This event is to honor Teri and Joe's memory, as well as their legacy of service, sacrifice and country!
Please join us on the traditional day of the Hero's Legacy golf outing, SATURDAY JULY 9th for a patriotic themed golf event. Any money raised will be given directly to Dennis Johnson.
I hope all of you can join us to celebrate the Johnson Family and their contributions to our community and our armed services.